A 150k January nonfarm payroll rise is anticipated, which falls short of the 176k 2019 average. The jobless rate should hold at 3.5%, alongside a flat hours-worked figure and a 0.3% rise for hourly earnings.
The data face upside risk from producer sentiment gains, still firm confidence, an assumed assembly rate bounce despite a flat vehicle sales path, and upside risks from Census hiring, alongside the drop-back in claims from a holiday-boosted December level. Today's tight claims, along with Wednesday's 291k surge in the January ADP, also strengthen the upside risk to the January BLS jobs report.
However, the Boeing 737 MAX production halt poses downside payroll and hours-worked risk across the Boeing supply chain. Annual revisions should lower the payroll trajectory, as reported job growth in 2018 and 2019 is reduced. Alternatively, the "phase one" deal may be more supportive than assumed, and we've seen improved global manufacturing sector prospects beyond coronavirus disruptions in China.
Hourly Earnings
Earnings, which is a leading indicator of inflation and an important variable in the Fed's calculus for setting interest rates, is expected to show a 0.3% increase in January average hourly earnings, after gains of 0.1% in December, 0.2% in November, and 0.4% in October. Growth in hourly earnings is gradually climbing from the 2% trough area between 2010 and 2014.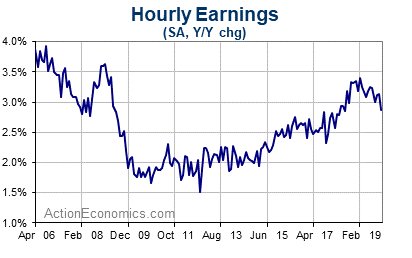 Also significant is  the fact that the US is currently at its lowest unemployment rate since 1969, something that seemed impossible just a few years ago. As a result, if the unemployment rate holds unchanged tomorrow while in general the data come out inline with forecasts, the US Dollar could be supported in the long term on the prospect of a solid jobs report but mainly due to the US GDP, which remains well above other major countries' growth rate.
Click here to access the HotForex Economic Calendar
Andria Pichidi
Market Analyst
Disclaimer: This material is provided as a general marketing communication for information purposes only and does not constitute an independent investment research. Nothing in this communication contains, or should be considered as containing, an investment advice or an investment recommendation or a solicitation for the purpose of buying or selling of any financial instrument. All information provided is gathered from reputable sources and any information containing an indication of past performance is not a guarantee or reliable indicator of future performance. Users acknowledge that any investment in Leveraged Products is characterized by a certain degree of uncertainty and that any investment of this nature involves a high level of risk for which the users are solely responsible and liable. We assume no liability for any loss arising from any investment made based on the information provided in this communication. This communication must not be reproduced or further distributed without our prior written permission.