China's economy lost momentum in 2018 and is set to slow further in 2019 as a weakening domestic economy intersects with the negative impact of US tariffs on China's export sector. Monday's Retail Sales and GDP data tigger markets major attention, as they could show the result of US-China trade war to Chinese economy and the impact of a global slowdown concerns over Chinese consumers.
However, fresh domestic stimulus measures alongside increased chances for a US-China trade deal suggest some stability may emerge this year for China's economy.
China's GDP growth slowed to a 6.5% y/y pace in Q3 of 2018 from 6.7% in Q2, leaving growth running at the slowest pace since the 6.4% clip in Q1 of 2009. The projection for GDP is to see additional moderation to a 6.3% y/y pace in Q4, which would put growth at 6.6% in 2018. The economy grew at a 6.9% clip in 2017 after slowing to 6.7% in 2016 from 6.9% in 2015.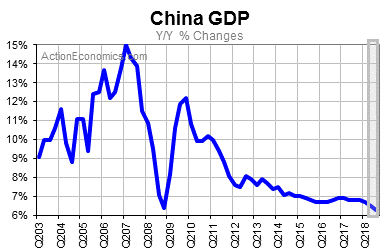 Meanwhile, the monthly reports track the slowdown in China's economy. China's exports contracted 4.4% y/y in December, marking the first decline since the 3.0% drop in March of 2018 and the largest pullback since a 6.2% decline in December of 2016.Imports tumbled 7.6% y/y in December after a 2.9% rise in November. The trade balance grew to a $57.1 bln surplus in December from $41.9 bln in November.
This report was consistent with ongoing slowing in China's domestic economy (falling imports) and the impact of the trade war with the US (drop in exports).
Manufacturing sentiment on the other hand, moved into contractionary territory in December after eroding through the year. However, the 90 day tariff truce agreed to by President Trump and President Xi in early December did not bolster the outlook of China's factories.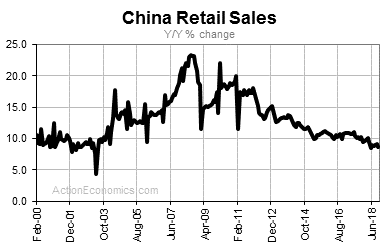 Meanwhile, China's consumer sector has throttled back as the economy slows. Retail sales slumped, with May of 2003 (4.3%) to be the previous slower rate than what was posted this past November. Further slowing to a 8.0% y/y clip in December is expected on Monday, January 21.
China's government has responded to the slowing growth backdrop by announcing a suite of tax cuts for small business totaling $29 bln per year over the next three years. PBoC has also cut the reserve ratio for banks, and has been easing since the middle of last year, yet credit growth continued to slow through year-end.
Meanwhile negotiations to end the trade stand-off with the US continue — an agreement with the US would of course prompt a mark-up in China's growth estimates for this year. Improved prospects for China's economy could chip away some of the emerging caution seen among core central banks (notably Fed), in turn supporting expectations that core central banks can continue to normalize policy this year.
Click here to access the HotForex Economic Calendar
Andria Pichidi
Market Analyst
HotForex
Disclaimer: This material is provided as a general marketing communication for information purposes only and does not constitute an independent investment research. Nothing in this communication contains, or should be considered as containing, an investment advice or an investment recommendation or a solicitation for the purpose of buying or selling of any financial instrument. All information provided is gathered from reputable sources and any information containing an indication of past performance is not a guarantee or reliable indicator of future performance. Users acknowledge that any investment in FX and CFDs products is characterized by a certain degree of uncertainty and that any investment of this nature involves a high level of risk for which the users are solely responsible and liable. We assume no liability for any loss arising from any investment made based on the information provided in this communication. This communication must not be reproduced or further distributed without our prior written permission.