The 53k initial claims surge to a 16-month high of 253k in the week of the MLK holiday more than reversed last week's 12k drop to a 49-year low of 200k (was 199k) from 212k in the BLS survey week.
The big gain eliminated the improving trend in claims into January, leaving what is now an elevated path over the November-January period relative to the tight readings seen through last October. Recent claims gyrations reflect holiday volatility and possible lifts from the government shutdown and the LA teachers' strike, as California claims rose 11k.
Today's data along with the solid ADP payrolls add to the upside risk for the Jobs report tomorrow. US ADP payrolls came in solid and roughly as expected at 213k in January, beating the 195k forecast. The data do not seem to show any impact from the government shutdown.
Despite high anxiety levels in financial markets, the outlook for job growth remains strong. Claims have tightened modestly, but the various "soft" data measures have moderated. Therefore the January nonfarm payroll is expected to rise by 200k tomorrow, after a 312k December surge that reflected a reversal of November's disaster and weather-related weakness.
The vehicle sector should restrain employment in January, as the assembly rate partly reverses the big December pop, and vehicle sales moderate from a firm Q4 pace. The shutdown will impact the household survey, but there should be little establishment survey impact, while a January wage boost is expected from minimum wage hikes in 21 states. Annual revisions should modestly lift the payroll growth path.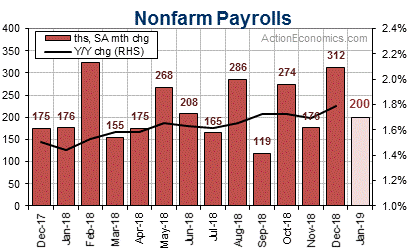 Click here to access the Economic Calendar
Andria Pichidi
Market Analyst
Disclaimer: This material is provided as a general marketing communication for information purposes only and does not constitute an independent investment research. Nothing in this communication contains, or should be considered as containing, an investment advice or an investment recommendation or a solicitation for the purpose of buying or selling of any financial instrument. All information provided is gathered from reputable sources and any information containing an indication of past performance is not a guarantee or reliable indicator of future performance. Users acknowledge that any investment in FX and CFDs products is characterized by a certain degree of uncertainty and that any investment of this nature involves a high level of risk for which the users are solely responsible and liable. We assume no liability for any loss arising from any investment made based on the information provided in this communication. This communication must not be reproduced or further distributed without our prior written permission.